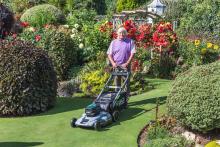 Stuart Grindle was crowned the winner of our Britain's Best Lawn competition and went on to take the nation by storm – appearing in The Daily Mirror, The Daily Mail, The Times, The Sun, The Star and the Daily Express. He even made a guest appearance on BBC Breakfast TV!
Britain's Best Lawn celebrates passionate gardeners and rewards them for their dedication. Stuart was certainly a worthy winner. His lawn was immaculate and his garden was truly stunning.

Stuart spends a staggering 30 hours a week looking after his lawn, with its fluted edges and immaculate borders.
Over the past month you may well have seen a Doncaster gardener making headlines.