Case Study:
Adorn Gardening
"Ditching petrol has not only made my job more efficient, but it also means I am able to work safely, without affecting the environment or the health of my clients."
Independent horticulturists, Adorn Gardening, recently added battery-powered garden tools from EGO to its inventory. Find out how EGO Power+ has benefitted the company and its clients.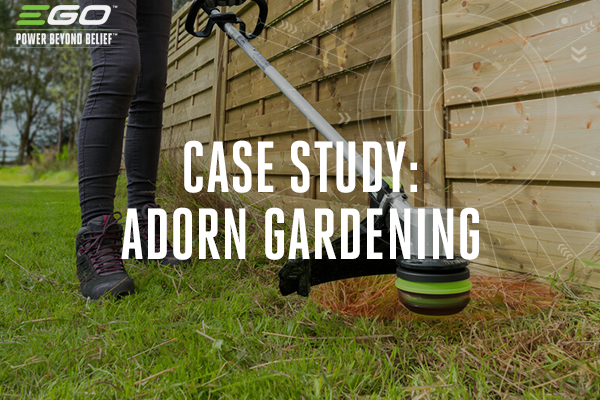 About Adorn Gardening
Adorn Gardening was born out of Abby Baumber's passion for getting her fingers green when helping her family around the garden to 'earn her keep'. After working in childcare for 12 years, Abby realised her love for being outdoors meant she had to take the plunge to have a career in gardening.
After spending time partnered with another gardener, Abby went alone and created Adorn Gardening. The name was carefully decided as she wanted her passion for gardening and attention to detail to be displayed to customers. While redesigning and personalising gardens, Abby would call upon petrol-powered outdoor garden equipment to prune, weed and refurbish spaces.
The Problem with Petrol Garden Equipment
While Abby completing jobs, she considered the effects that her petrol-powered tools were having on herself and those around her.
The tools she was using had heavy vibration from the petrol engine, which she would use for long hours while tending to a garden. At the same time, Abby was also concerned at the noise her tools were making while working in gardens from early in the morning.
Moving to Battery Powered Tools
"The EGO Power+ Line Trimmer is so quiet, instead of hearing the petrol engine, you only hear the line turning around instead!"
Abby introduced the battery-powered equipment from EGO to see if petrol had finally met its match. Having initially purchased the EGO Power+ Line Trimmer with Powerload, Abby then bought the EGO Power+ Multi-Tool Range complete with Professional-X Backpack and a selection of smaller batteries.
Upon using EGO tools for the first time, Abby was quite surprised by how quiet they are.
"As you would normally associate noise with power, it was the first thing that I had to get used to," Abby said. "The EGO Power+ Line Trimmer is so quiet, instead of hearing the petrol engine, you only hear the line turning around instead!"
Hand-Arm Vibration
Abby admits her switch to EGO Power+ products was inspired by a testimonial of a fellow user who had sustained injuries because of excessive Hand-Arm Vibration (HAV) from petrol tools. They mentioned the little vibration from battery-powered tools which helped them.
Abby herself had previously suffered from trigger fingers after long periods of using strimmers. Her decision to switch to battery-power was motivated by the health benefits of a reduced level of vibration. After just a few weeks of using the Power+ Line Trimmer, she noticed a difference when using the ergonomic, simplified 'pull trigger' feature which doesn't require much strength and makes it easier and more comfortable to handle.
"When I had trigger finger, I found it very difficult to pick-up my tools to prune the garden. But ever since I've started using EGO, I haven't had any issues with muscle tightness because there's far less vibration involved."
"I can definitely say that switching to battery has improved my Hand-Arm Vibration. I am no longer experiencing any problems and because the tools are light, I am also able to pick them up and move them comfortably".
Fighting Preconceptions of Battery Garden Tools
Despite taking the plunge to move to battery garden tools, Abby did have some concerns about the power capabilities of EGO Power+ tools. She admitted to being shocked by the power and performance the battery delivered.
Abby commented, "The power of EGO products was certainly surprising. Having purchased a 2.5Ah, 5Ah and Professional-X backpack, I'm able to get through tasks easily as the variety of batteries makes it easy for me to choose the most suitable one for the job. They are so easy to replace and you can easily check how much battery life is left by a quick push of the button on the back".
"The upfront cost of battery-power is typically what turns gardeners away from purchasing, but when you consider the long-term savings, like no longer having to go buy and carry fuel, it works out cheaper and far more convenient."
"Ignore what others may say about battery power and try it for yourself. Make your own decision because, like me, it was a choice I did not regret. I'd suggest getting your hands-on demo kit, go to a familiar job and experience it for yourself. Go for battery, it's equally as powerful, just without the noise, fuss and fumes".
To sum up her experience switching to battery-powered garden tools, Abby said, "Anybody who is still using petrol-powered garden equipment for commercial or home garden maintenance should just pick one of EGO's battery-powered tools and run with it!"
For more information about EGO's battery-powered outdoor power tools and discover the Professional and Professional X ranges for larger gardens and business use including three year warranty on all professional products, view the latest catalogue or find your nearest dealer today.