The battery-operated multi-tool that tackles the most common gardening tasks
By opting for one tool to take on the jobs you do most often, you can save time, money and space in the tool shed.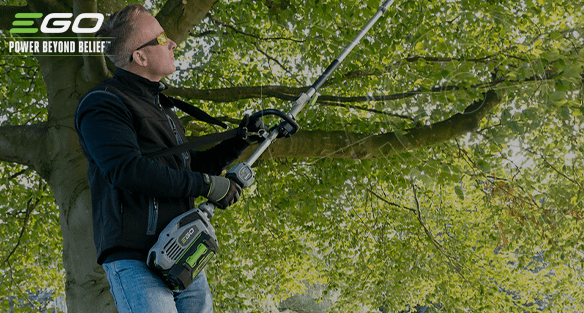 What is a garden multi-tool?
Just like a pocket multi-tool, it's a device that enables you to complete a number of different tasks without having to use a separate instrument each time. 
And while it doesn't fit in your pocket, it's a convenient and labour saving investment for any professional (or keen amateur) gardener.
It works simply by connecting different attachments to the battery power head, each one designed to take on a specific function. 
What does a multi-tool do?
A garden multi-tool can cover a number of jobs, depending on the available attachments.
By simply swapping one for another, you can approach any of the following essential tasks with confidence:
Line trimming
Where your grass meets a wall or fence, precision is key, which means you need an attachment that can reach where your mower can't.
Choose a multi-tool that offers a substantial cutting width and with a line that is easy to replenish and reload.
Lawn finishing/edging
It's the attention-to-detail that separates a good lawn from a great lawn - and if you take that extra care with your edging, the results really show.
A tool that achieves a crisp, neat edge alongside flowerbeds, vegetable patches or pathways is well worth investing in.
Brush cutting
A brush cutter attachment is a useful tool to have available, as it's ideal for dense heavy growth that will clog a lawnmower.
And of course, it helps clear the way for more detailed finishing with edgers and strimmers.
Hedge trimming
No two hedges are the same, so with a trimmer attachment, flexibility is key to getting the results you want.
Try and choose a multi-tool that can take on high or low hedges, with a head that has adjustable angles.
Pole sawing
Today's market leading multi-tools perform as well as a standalone power saw, with branches proving no problem.
Look for an attachment that offers heightened control and balance, to allow you to keep your trees looking tidy all year round.
Which garden multi-tool is best for me?
Of course, there is a multitude of different factors to consider before you swap all your old appliances for just one.
As well as the obvious build quality, number/type of attachments and cost, you will need to consider ease-of-use and comfort.
If your garden is large, then mains power may prove inconvenient, especially if you need to use extension leads.
This can lead some gardeners to opt for petrol power as a more flexible and versatile alternative. 
But with prolonged use, some petrol-powered multi-tools can cause discomfort through excessive vibration and noise, plus the smell after a day of using petrol tools can be overbearing.
But by choosing for battery power, you can potentially enjoy the same performance levels with less physical impact on yourself.
And of course, battery-powered also means zero emissions, which is better for you, your garden, and the planet.
A multi-tool is a smart choice 
So, by selecting the right garden multi-tool, not only will you save yourself time, space and money - you'll also be helping the environment.
The battery technology developed by EGO means that you can outperform petrol devices across the board.
That means matching petrol's power without cumbersome cords, unpleasant fumes or unbearable noise.
And of course, cordless means cost saving - so premium performance doesn't mean a price to match.