How to clean paths and driveways with a cordless bristle brush
Using a brush to sweep your paths and driveways might keep you fit, but it doesn't always get the best results.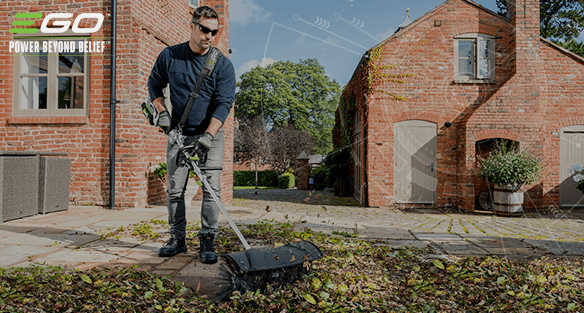 To cut through ingrained dirt and soggy, mulchy leaves, we've got something more powerful in mind.
What is the bristle brush attachment?
It's a quick-fit attachment to be used with our award-winning battery-powered multi-tool. It comprises a handle, ARC lithium 56v battery and a large rotating brush head, which is topped-off by a debris guard.
The bristle brush has an overall clearing swath of 560mm, so it makes light work of sweeping away moss, wet leaves and ingrained dirt from your paths, driveways, and decking. 
While it weighs 5kg, it's easy to manouevre, especially with the shoulder strap.
Surfaces suitable for a bristle brush
Asphalt driveways, walkways and yards
Printed concrete driveways
Tarmac paths
Paved paths
Patio flags
Wooden decking
Uneven and jointed surfaces
It's an effective cordless garden tool and will leave your surfaces looking revitalised. However, it's worth noting that the bristle brush is a powerful tool, so shouldn't be used on damaged or easily damageable surfaces.
How to use it
Always wear appropriate PPE, especially safety glasses and ear defenders
Check the brush roller, guard, front-assist handle and drive axle. Replace any parts that are cracked, warped, bent or damaged in any way.
Move the bristle brush to the work area before starting. Start the bristle brush at the lower speed.
Work with the bristle brush forward. Hold the bristle brush with one hand on the rear handle and the other hand on the front-assist handle. 
Keep a firm grip with both hands, and hold and guide the bristle brush at a shallow angle. 
Pro tips
If the surface to be cleaned is dry, spray it with water to reduce the amount of dust created.
If the bristle brush is held at too steep an angle, it tends to push back towards the operator.
Maintain a firm grip on both handles and balance on both feet. 
Thrown materials can seriously injure. Don't operate it while you're working close to bystanders, pets or livestock.
Follow the operational instructions in the full manual, as summarised here.
Eco/environmentally-friendly tips
This tool is powerful, so it's unlikely you'll need to use any chemical lichen and moss removers - perhaps just some additional water to help you work.
Tackle bigger, tougher weeds with a rotocut attachment. Again, no need for chemical weed killers. Roots can be treated with organic substances.
Cordless bristle brush battery time
Like many of our cordless garden tools, the bristle brush attachment is a versatile and robust instrument.
Even using the smallest 2.5Ah ARC lithium 56v battery, you'll get up to 40 minutes running time. 
However, running time increases with battery size so, for example, it will run for 160 minutes (2 hours 20 minutes) on a fully-charged 10.0Ah lithium 56v battery.
Even better, batteries are interchangeable between all EGO cordless garden tools.