Case Study:
Ken Walker
"I'd tell anyone who has ready access to power, that you really do need to hook up with EGO."
To start a business, you need the right equipment. Find out how the EGO Power+ range helped Ken Walker create a small grounds maintenance company.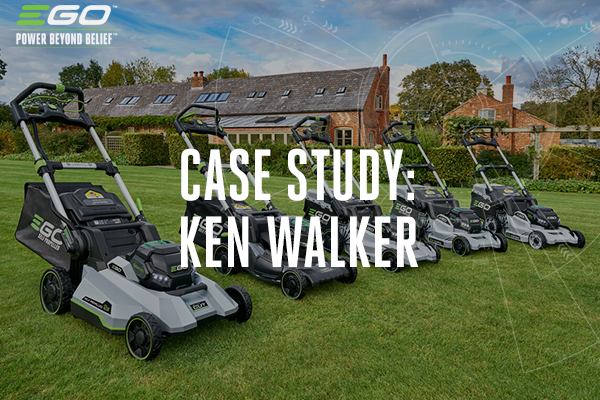 Ken's Story
Ken Walker spent most of his working life as a Royal Marine delivering boats around the world, a world away from gardening. He had little experience or interest in grounds and gardening until one visit to his mother at her care home on the South Coast five years ago.
The care home had problems finding someone to mow the lawns and tend to the garden. As a favour, Ken started volunteering a few days a week using his own electric lawn mower and extension cable. Unknowingly, Ken found the task at hand difficult with his current set up.
"I really struggled. It wasn't an especially big lawn, but it was really hard work and took much longer than I'd expected."
The owner, however, was impressed with his work. 
"She asked me whether I'd do the lawn regularly and said she also had a few other homes in the area with gardens in need of care. I was retired, with time on my hands, and so I thought why not? And that's how my little grounds maintenance business began."
Going Into Business With Electric Garden Tools
"I ended up walking out with pretty much every EGO product in the showroom."
Ken decided he needed serious equipment if he was going to start his own gardening business. On his search for the ideal lawnmower, he and the salespeople he met only had one type in mind.
"To be honest, battery technology didn't even enter my head. I was fixated on petrol, and so were all the salespeople I met."
Until he met one salesman who asked Ken about what he needed the lawnmower for and if he had access to a power supply. Ken was then introduced to battery powered garden tools and their petrol-matching performance. For the benefit of himself and his business, Ken was shown that he didn't have to carry costly and potentially dangerous fuel in the back of his vehicle, as he could simply use a wall socket at the care home.
Not that Ken was convinced: "I said you're joking, they're rubbish, they won't last two minutes."
Once Ken was shown the EGO Power+ range, where the battery was interchangeable between all the cordless garden tools from leaf blowers to brush cutters.
"The more he talked, the more sense it all made. I ended up walking out with pretty much every EGO product in the showroom."
How EGO Power+ Works for Ken Seven Years On
"It saves me carrying fuel, and it saves me a fortune in the process. It's a win-win situation."
Seven years on and Ken has a selection of EGO tools in his inventory, including self-propelled large lawn mower, the battery multi-tool unit with the edge, the cordless strimmer, the battery blower, the long reach hedge trimmer, the small handheld shears and the rotovator.
Ken admits that his favourite tool is the blower saying, "You just pick it up it and it does a great job. It's light, quiet and really powerful. Other gardeners are always asking me about it."
While working at the care home, Ken tops up his batteries using the rapid charger which gives him enough charge on one 7.5-amp battery to do a large lawn. This goes back on charge while he works on the hedges and borders with a second battery. With the original battery now fully charged, he can move onto the next job.
EGO's cordless technology is perfect for Ken who commented, "It saves me carrying fuel, and it saves me a fortune in the process. It's a win-win situation."
As an added bonus, cordless power tools are far quieter than their petrol counterparts and so don't detract from the peaceful surroundings so important in care homes.
Powered by energy, commitment and entrepreneurial spirit – as well as a little bit by EGO - Ken's business has steadily grown and he now looks after seven care homes in the south, with another one about to come on board soon.
After seven years, would Ken recommend EGO Power+?
"EGO's so light and easy to use, it's made my job a pleasure to do, so it's really helped me in so many ways. I'd tell anyone who has ready access to power, that you really do need to hook up with EGO."
The EGO Power System gives you petrol power without the petrol, no matter the size of your operation. To find ergonomic, long-lasting and sustainable cordless garden tools, discover EGO's Professional-X range today or download the latest catalogue. All EGO tools come with a professional warranty of up to 3 years.