How to cut long grass with a good strimmer technique
If you need to get on top of an unruly lawned area, there's a range of tools at your disposal to get the job done as easily as possible and with results you'll be proud of.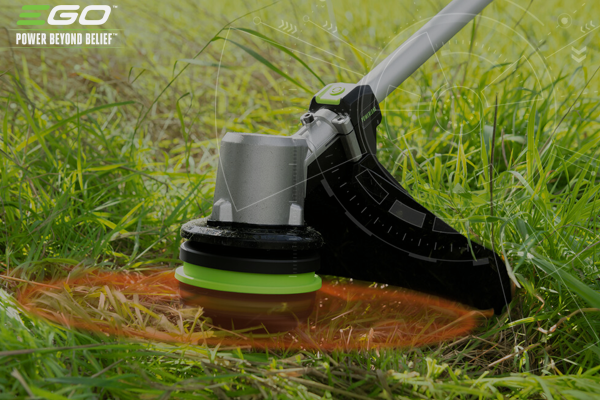 With an area of long grass and undergrowth, it will be a two-stage job at the very least. Think of it as an ongoing project.
Tips on cutting long grass
If the grass is very long, you'll need to assess how many stages of cutting it will take to bring it down to size.
Some experts recommend you should only cut one third of grass height at a time. This is because overcutting could affect your lawn's ability to recover. 
The objective is to use the line trimmer to cut the grass to a length that can be dealt with by a lawn mower. 
For very tough or very long grass, you might need to use a brush cutter. Some of our cordless garden tools incorporate a brush cutter head and a line trimmer.
When you are able to give it its first mow, leave the grass as long as possible and allow cuttings to add nutrients to the lawn naturally. Our range of cordless mowers allows you to adjust the cutting height.
Tools for cutting long grass
Cordless garden tools (like a battery powered strimmer) have many benefits - EGO products have a long battery life, power that's easily as good as a petrol equivalent, and easy handling. They also emit less vibration and are much quieter than petrol strimmers.
The process of cutting
Take off the top third of the grass
Rake and water well
Leave to rest for a week
Repeat until you reach lawn mower length
Rake out moss and and remaining weeds
Set your cutting height to its maximum for the first mow
Feed and reseed as necessary to improve lawn health and appearance
Line trimmer techniques for long grass
Use your garden tools safely
Before you start, check your battery is charged. For example, an EGO 56V 5.0Ah battery in a 35cm loop handled line trimmer will give you up to 120 minutes' strimming time and can be recharged in 40 minutes with a rapid charger (or, with a 7.5Ah, a running time of 165 minutes).
Check the safety advice in your line trimmer manual
Check wear and tear on your equipment before using.  If you need to replace it, contact your nearest dealer for a replacement part.
Check for obstacles in your working area that might pose a danger
Wear appropriate safety equipment, including safety glasses, ear protection, good boots and trousers
Take a stable, balanced stance on good ground
Hold your cordless line trimmer firmly with both hands
How to use a strimmer on long grass
Angle the line trimmer head towards the ground at all times
Use a smooth scything motion, trimming in an arc from left to right and back again
Don't overcut - remember, only take off a third of the height at a time
Last but not least
Check your manual for full information on safe and correct operation, cleaning and storage of your cordless line trimmer or strimmer. 
We have great confidence our products can handle the toughest jobs, including cutting grass down to size and helping you make it into a lawn to be proud of. Like all our products, the line trimmer comes with an exceptional warranty.